​
What is the BOGOF?
BOGOF is your opportunity to get your hands on some fabulous retired items, whilst only paying for current items.
For every £ you choose of used retired products, you then need to purchase the same amount in my online shop on current new products from our annual or mini catalogue. You will get them BOTH, the retired products AND your new product order. This makes the retired products FREE as you will use the 100% off coupon code BOGOF21
I have hundreds of used, well loved and NEW retired items, including stamps, punches, dies, bundles, papers, card, embellishments and ribbons available in my BOGOF store for you to choose from.
Most items there is only one of, so make sure to shop and check out as soon as you can.
I have put the items into categories, such as stamps, punches etc but there is a Shop All button too so you can look at everything. There are pictures, so you can see how well loved the items are and what is included.
When is the BOGOF?
It starts at 9am on Friday 1st October 2021 and runs for the whole month of October.
Where is the BOGOF store?
Click on the link to go shopping below. Please be aware that you must checkout of the BOGOF store and pay for your postage in order to secure your items.
https://inspiring-inkin.square.site
You also need to add the coupon code BOGOF21 at checkout to get your items for FREE.​
Please scroll down for some hints and tips regarding adding the coupon code and your address.
Will my order qualify for November 2021 Craft-along?
Orders placed in October will not qualify for the November Craft-along as the BOGOF is running as your reward for shopping with me.
However November Craft-a-long will still take place. So please make sure to put aside your £15 for the Craft-along and book a ticket separately. You can book your place for the November Craft-along at the link below.
https://bookwhen.com/inspiringinkinclasses
How do I order my NEW products?
Once you have shopped in my BOGOF store and checked out (Make sure to use to 100% off coupon code BOGOF21 so you only pay for shipping) Check the total of FREE products you have selected. This is the total of the order for new products you need to place in my Stampin' Up! online store, before postage. Go to the store at the link below and place your order. Please make sure to use the host code TTMPYQWB
https://www.stampinup.uk/?dbwsdemoid=5000047
Your NEW items will ship via Stampin' Up! and UPS as normal.
How do I get my BOGOF Products?
Your BOGOF products will be packed and posted to you separately to your new product order.
You will pay £2.95 as a contribution towards posting your retired items to your chosen address (£5.95 for Internationals) or you can choose to collect them from me (at my home PO14 3EQ) for free. I will be posting BOGOF items on Tuesday and Friday each week during October.
You must make sure to place your NEW products order within 48 hours of your BOGOF order. If you have not placed your new product order within 48 hours the BOGOF items will be returned to the BOGOF store and your order cancelled.
Shipping
The BOGOF sale is only available to customers in the UK, France, Germany, Austria or The Netherlands.
I cannot sell to or ship items outside of those 5 countries.
Items will be sent 2nd Class Signed For in the UK and will be posted on Tuesdays and Fridays the cost is £2.95.
Items sent to Europe will be sent International Tracked and will be posted on Tuesdays and Fridays the cost is £5.95.
Shipping will be added automatically to your BOGOF order at checkout once you have entered your address.
Returns
BOGOF items are sold as seen and cannot be returned or refunded.
Breast Cancer Now
Every year at the in person BOGOF I collect donations for Breast Cancer Care. This year at the BOGOF sale you can make a donation online if you wish. Breast Cancer Care has now merged with Breast Cancer Now. I have set up a donation item in the store, if you wish to add it to your order. Thank you.
BOGOF Coupon Code and hints and tips when shopping the BOGOF store
I have popped some pictures below so you can see where to put the coupon code.
Once you go to checkout this is what you will see.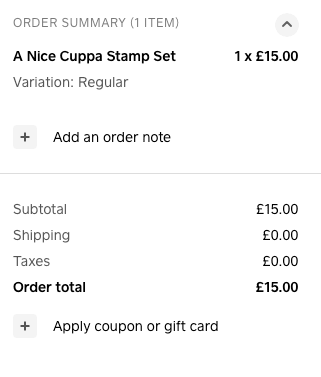 ---
you click on the + Apply coupon or gift card and add BOGOF21, make sure to click apply
---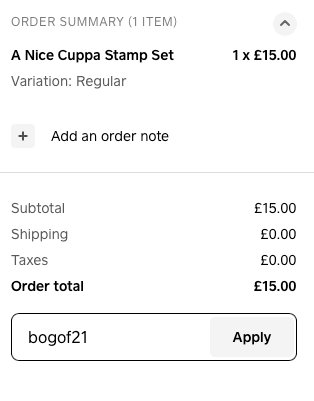 ---
it will then remove the cost of the items.
---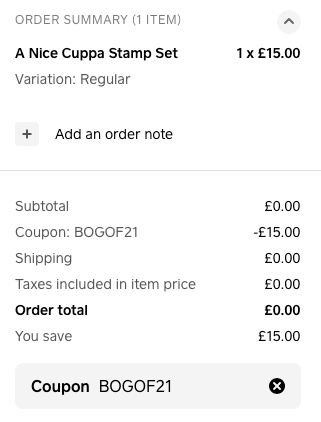 ---
When adding your address please put the postcode in first, this will really help the system find your address. You will need to pay for the appropriate shipping option either UK, Europe or check free collection.
You will receive an email confirming your order. If you have not had an email in 10 minutes please let me know.
If you have any other problems please let me know.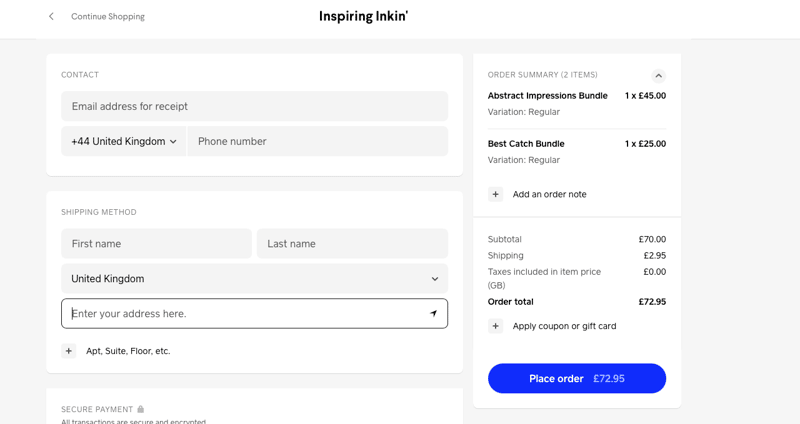 To join the October 2023 Craft-Along, you must enter the Inkin' Host Code below at check out and place a minimum order of £49 or €56 before shipping during September 2023. All orders below £49, or if you request it, will a get a thank you gift and card.
Did you hear the news? We have launched in Ireland and Belgium. You can now shop AND join my team!
#stampinupireland #stampinupbelgium